I did it for 2008 and 2009! Now I present you -

TOP 5 RAFA MOMENTS OF 2010






5.

Winning his second Wimbledon. The fact that I can open this list with a Slam win speaks volumes about how great his 2010 was.

Wimbledon is Rafa's favorite Slam and it broke my heart that last year he couldn't walk out first on main court as defending champion. But he won himself the honor of trying again in 2011. :) (This after many moments of stress in his first four matches, ugh.)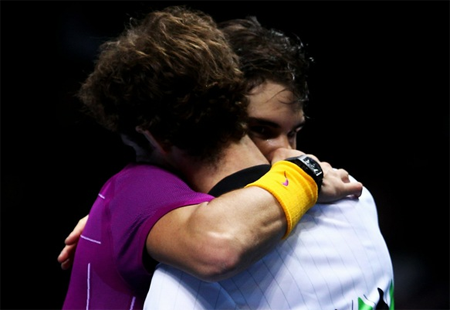 4.

Reaching the WTF/Masters Cup Final for the first time.

YES. It goes ahead of Wimbledon even though he didn't win. I'm pretty sure Rafa wouldn't agree with this order, but it's significant to me as a fan.

Why? Because Rafa losing all RR matches last year without getting a single set was hitting rock bottom in that slump as far as I'm concerned, and reaching his first final this year was a fantastic way to wash out the bitter taste.

And he reached it by winning all his RR matches, beating Andy Murray (who is sort of a hard court boogey man for Rafa) in one of the best matches of the year (my favorite match of the year, actually) in the sf.

Four top 10 wins on the trot, on indoor hard, which is by far Rafa's worst surface.

I'm sorry, but this is worthy of going ahead of Wimbledon on this list.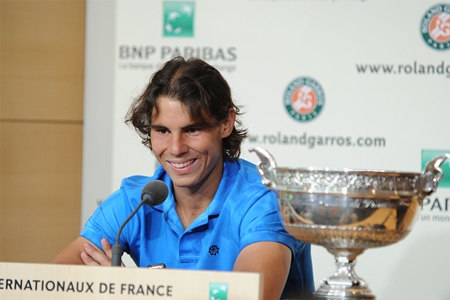 3

. FIFTH ROLAND GARROS.

FUCK YOU, BITCHES, GO CRY INTO YOUR CROISSANTS OR WHATEVER.

Y'know, he went into this without being a holder of any Slam. It was the first time since 2005. :(

First to win the clay slam (3 clays masters + RG), regained #1, was way more gracious than I would have been in his speech, had adorable post final interview with JMac, etc.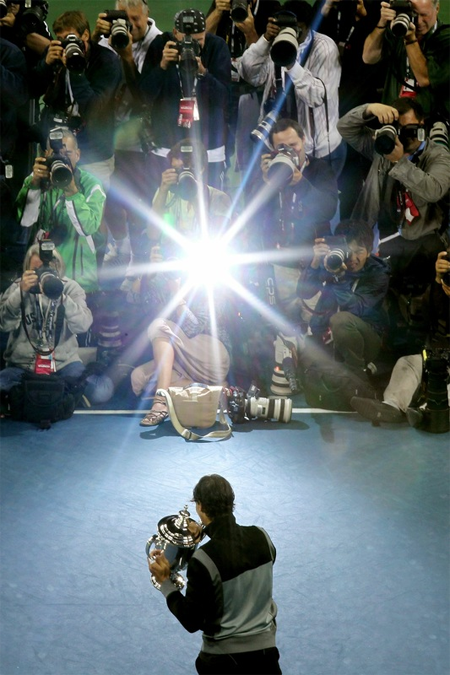 2.

USO

The one he was supposed to never win, and he WON IT IN HIS FIRST FINAL.

Golden career slam, first man ever to hold slams on 3 different surfaces in the same calendar year, only the second ever to win 3 consecutive slams in the same calendar year, and now officially A Tennis Great.

Oh, and by the way? One of each, beating Slam winners in the finals for all four.

:') :') :') :') :') :')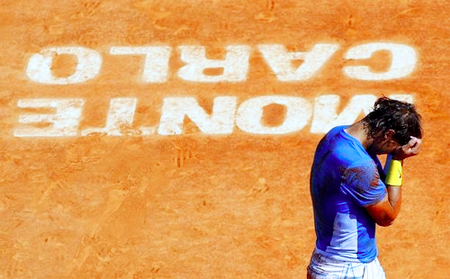 1.

A Masters/1000, I know. ONE THAT ISN'T EVEN MANDATORY.

Still. I believe none of the other items on this list would have happened without Monte Carlo.

11 months without a title, fell to as low as #4 after the AO, odd losses, struggles with his knees.

He made a Facebook update around that time with an old picture of himself, all smiley on an empty court, arms spread wide, and a caption that amounted to ~~ Gotta get that feeling back.

He wasn't crying for nothing, you guys.

I was crying too, because I'm lame and pathologically over-invested.